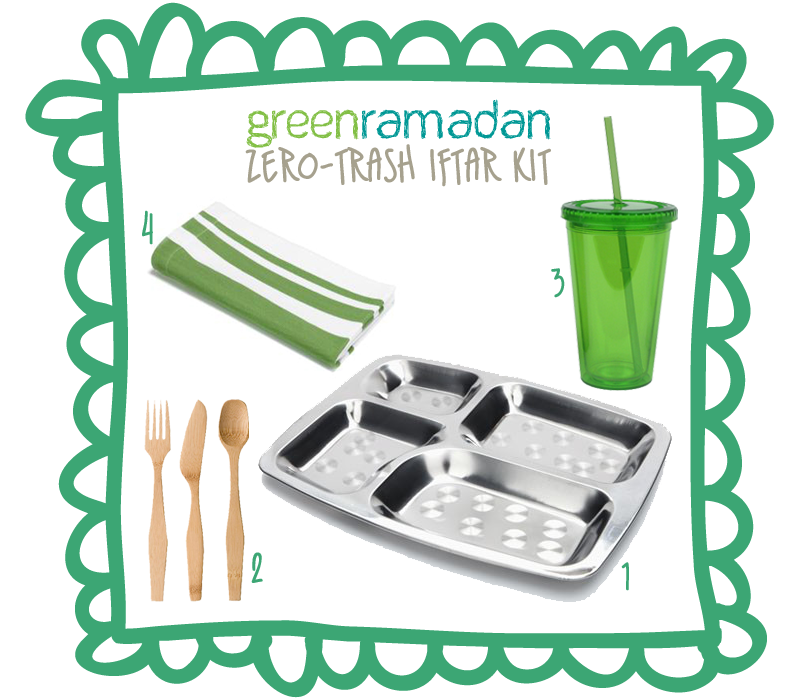 Every item in your Zero-Trash Iftar Kit will be either a) reusable, b) responsibly-made, c) sustainable or d) all of the above, and will include:
a stainless steel divided food tray

your food won't touch
dishwasher- and oven-safe
durable
replaces disposable styrofoam, plastic and paper plates made from unsustainable (or sometimes even toxic) resources

a bamboo fork, knife and spoon

lightweight but sturdy
heat- and stain-resistant
won't impart or absorb flavors
replaces disposable plastic cutlery

a BPA-free tumbler with straw*

sturdier than paper/plastic/styrofoam
practically spill-proof
dishwasher-safe
replaces disposable cups & straws and water bottles

a cloth napkin*

machine-washable
absorbant
classy
replaces disposable napkins & paper towels

a reusable bag* to carry it all (not shown)
*Colors may vary.
| | |
| --- | --- |
| 1 Zero-Trash Iftar Kit – $21.99 | |
| 2 Zero-Trash Iftar Kits – $42.99 | |
| 3 Zero-Trash Iftar Kits – $64.99 | |
| 4 Zero-Trash Iftar Kits – $86.99 | |
| 5 Zero-Trash Iftar Kits – $108.99 | |
For less than $1 a day — less than a disposable cup of name-brand coffee — you can make a positive and sustainable impact during the blessed month of Ramadan and demonstrate that you care about one of the greatest blessings we all share: the Earth. Plus you'll look good while you're eating good.
Need more than 5 Zero-Trash Iftar Kits?
Email me at kori [at] greenramadan [dot] com.